Pubs in Broadway & the Cotswolds
While you're staying in the Cotswolds, why not explore the pubs in Broadway for somewhere convenient to eat. With many popular ale houses in the village serving a delicious light lunch menu in the day, and hearty, classic dishes in the evening, you'll never go hungry in Broadway!
For suggestions of the best pubs and inns to visit in the village, cast your eyes and bellies over the fantastic selection of pubs in Broadway below.
READ MORE/LESS...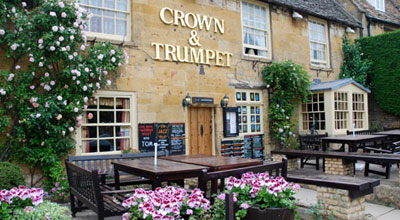 Situated just behind the village green of Broadway this traditional 17th Century Inn, built in Cotswold stone.
Website: www.cotswoldholidays.co.uk
The Broadway Hotel, a beautiful building in a captivating setting, is ideal for a special break away or a special celebration.
Website: www.broadway-hotel.co.uk
The Swan is a pub, bar, and restaurant with its very own garden, centrally located in the heart of Broadway.
Website: www.theswanbroadway.co.uk
The Surrounding Area
The Bell Inn is a 17th Century Cotswold stone-built pub overlooking the Village Green and Duck Pond.
Website: www.thebellwillersey.com
Less than a five-minute drive outside Broadway is The New Inn at Willersey. A 17th Century country pub with ample parking and outdoor seating.
Website: www.newinnwillersey.co.uk
The Fleece Inn is a pub steeped in history, originally built in the early 15th century, and bequeathed to the National Trust in 1977.
Website: www.thefleeceinn.co.uk
The Lion Inn is a recently refurbished 15th Century Coaching Inn located in North Street Winchcombe.
Website: www.thelionwinchcombe.co.uk