Top 10 Places to Buy Christmas Gifts in Broadway
With Broadway's late night Christmas shopping just round the corner, we decided to compile a list of the top 10 places to buy Christmas gifts to help you avoid that last minute scramble that seems to happen every year! There's something for everyone in Broadway, so get your christmas shopping done early during the late night shopping evenings (November 25th & December 2nd) and check out these great shops for the best festive gift ideas in the Cotswolds.
Cotswold Trading
With the festive season fast approaching, Cotswold Trading is an ideal place to shop for all of your Christmas presents! There are fabulous ideas for decorations, table displays, advent calendars, stocking fillers and more to kick-start your Christmas gift-buying. Indulge in a glass or two of mulled wine while you shop at Broadway's late night shopping evenings on Friday 25th November and Friday 2nd December 2016 when they stay open until 9pm!
At Home
At Home, Christmas is at the very heart of what they do. The vast array of home, decor and giftware can be found in each carefully selected Christmas product on offer. From large tartan reindeer to greet your guests at the door, to delicate glass baubles, there's no doubt you'll find that special something to make 2016 your best Christmas yet. Pop in and explore their entire festive range at 14 The Green.
Table Manners
Table Manners are a well established speciality cookware and tableware shop in Broadway, offering a blend of 'Country Kitchen' with the modern contemporary. The Christmas napkins and mugs they sell are famous all over the Cotswolds and now you can pick them up from the shop where you'll find old favourites and new designs. There are many other great gift ideas available, from stocking filler fun gadgets to lovely kitchen textiles, there's something for everyone.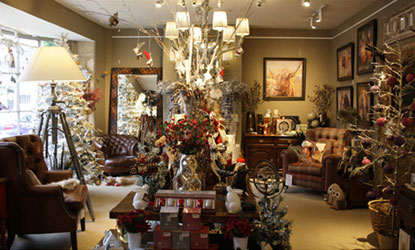 Pavilion
With it's inviting shop front adorned with festive décor and an elegant Christmas tree, the Pavilion Broadway is a luxurious chocolate box of Christmas treasures, inside. You'll find beautiful handmade Christmas tree decorations and tasteful home accessories, throughout the charming old worldly rooms that are sure to excite and inspire. From stylish tableware to cater for the ultimate holiday party, superb authentic model boats and planes for the veteran collector or decorative vases, clocks, cushions and candles; the Pavilion Broadway is the perfect place for gifting to friends and loved ones this Christmas.
Slate
Christmas shopping at Slate Clothing might mean a new outfit, a blouse, a coat or a maybe gift voucher, but there are lots of other gifts too. There are bags and purses, extensive range of jewellery, gloves and scarves galore, fur-trimmed hats and, of course, their very own special and very affordable Slate fragrance.
Broadway Cookshop
Christmas is coming and you'll find a sack full of perfect stocking fillers, including fun and festive egg cups at the Broadway Cookshop, plus all the kitchen essentials you'll need to cook the perfect feast on Christmas day. From practical ideas, everyday utensils to high quality products, there's something for every cook in the family here.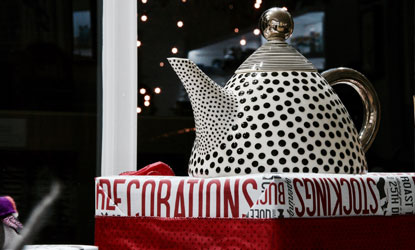 Mary Maggs
Showcasing the very best of British craft and design, Mary Maggs on the Green, Broadway, is the place for inspiration for stylish and original gifts at very affordable prices this Christmas. Whether you're after cosy cashmere baby socks for a new arrival, a big stripy mug for a serious tea drinker, a solid English oak chopping board for the chef in your family, a handbag in butter-soft leather for someone who deserves a treat, a fragrant allergen-free hand balm for hard-working hands, or a box of top quality Christmas crackers, you'll find it here. And there's more, much more! Check out their entire range at www.marymaggs.com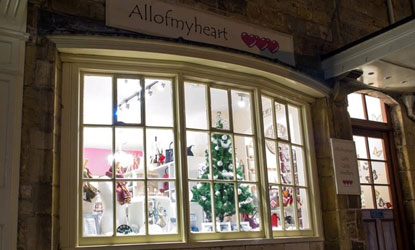 All Of My Heart
All Of My Heart have a wonderful range of gifts in stock for Christmas. With an extensive collection of unique silver jewellery, faux leather handbags, scented candles, gloves and scarves on offer, you're sure to find the perfect gift. You'll also find a range of artisan soaps from the Little Soap Company, which are unique and made here in Broadway, Whether you are looking for that special present or just a stocking filler, visit the shop or find a selection of their products online, and spoil your loved ones this Christmas.
John Barleycorn's
John Barleycorn's have a whole range of bags, gift boxes and hampers with a large variety of great food and drink products that can be combined in countless ways to create personalised gifts, perfect for friends at Christmas. One gift in particular they stock is the Cotswolds 'Test Batch' Series. A box set of three 20cl bottles of new make malt spirit from the Cotswolds Distillery is the fantastic present for whiskey lovers. With only 300 of these being released to the entire British retail trade, this is a great opportunity to pick one up.
Sew U Knit Crafts
For those that enjoy embroidery, Sew U Knit Crafts is the ideal place to pick up those meaningful presents for a loved one who knits or crochets. Craft bags, yarn holders, needle and hook cases are available in four vibrant colours, and you can even pick up personalised slogan Christmas gifts. There's an exciting range of ceramic mugs and matching coasters on offer, or perhaps treat a someone to a beautiful porcelain money box they can use to save for their next project.