The Dormy House Hotel, Broadway
Perched high above the village of Broadway with fabulous views across the Cotswolds, Dormy House is the perfect rural retreat.
Details & Contact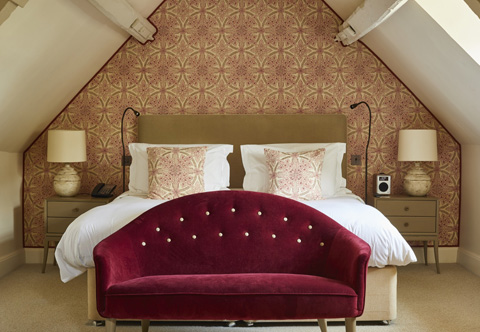 Full Description
Perched high above the village of Broadway with fabulous views across the Cotswolds, Dormy House is the perfect rural retreat. Think cosy corners, log fires, sparkling spa, glorious grub and sumptuous interiors.
Spa:
The House Spa has been winning awards since the day it opened, offering guests an indoor/outdoor blend of soothing therapies, serene pool, terrace hot tub, and Scandi-style thermal suite. But be warned: The Dormy brand of well-being can be highly addictive...
Dining:
Whether you want a romantic picnic hamper to take with you on a walk around the Cotswolds or fancy relaxing with your friends over a delicious meal, our selection of foodie options is guaranteed to satisfy your appetite.
The Potting Shed is a relaxed space to eat and drink and tuck into faff-free, seasonal dishes, freshly prepared in the Dormy kitchen. Well-behaved dogs are welcome in the sun terrace section of The Potting Shed.
The Back Garden is a welcoming restaurant set up to showcase and celebrate the best of the back garden – literally and has a concept where every single dish showcases the best of the Cotswolds. Sustainability and seasonality are at the heart of the Back Garden philosophy; that means slow foods, high-welfare rare-breed meats, and responsibly cultivated grains and veg – all sourced and served in tune with the rhythms of the land.
MO showcases creative cooking, unexpected ingredients, forward-thinking culinary techniques, and just a hint of food theatre. A chefs table style experience, offering a unique, interactive 8-course tasting-menu to a small number of guests at a time.
Sleeping:
Kick off your shoes, put your feet up, and make yourself at home… because Dormy House has stunning Cotswold bedrooms for every mood. Whether you want to go traditional in the main farmhouse, private and secluded, super stylish, or rustic in Rose Cottage, there's a room waiting for you...
Rose Cottage - a traditional Cotswold cottage with its own private courtyard and hot tub. Full of character courtesy of its exposed timbers, fabulously floral decor and abundance of antique features, this independent single storey cottage in the hotel grounds is perfect for those in search of a little privacy.
The Studio - the largest Suite at Dormy House. It has its very own lounge, en-suite bathroom and curated vinyl collection with turntable and state-of-the-art sound system and headphones. Perfect for kicking back, relaxing and immersing in soulful sound. Characterised by the clean lines, soft curves and natural materials that are the hallmarks of modern Scandi design.
The Attic - one of the main suites at Dormy House, elegant and full of country charm. Set atop a private staircase in the eaves of the main Farmhouse and brimming with country elegance, the Attic is one of the biggest suites at Dormy. With exposed oak beams, a large lounge area and a bathroom that's nothing short of spectacular, it's one of the most romantic spots you'll ever run away to...