Banks in Broadway & the Cotswolds
Lloyds TSB now serves as the only bank in Broadway village after the closure of the HSBC branch. It sits opposite The Lygon Arms on the High Street. The banks hours of operation are Monday to Friday, from 10am until 4pm. The Lloyds TSB Broadway branch has a 24 hour ATM machine too. There are a few ATM's located around the village, which would be a good idea to remember the location of on your visit to Broadway. There's an ATM outside the Budgens store at the bottom of the High Street and one in the convenience store tucked away at the top of the village on the local housing estate.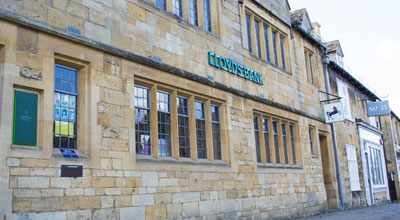 Lloyds TSB Bank
Lloyds TSB is now the only bank in the village. Its has its own cash machine and is open Monday until Friday from 10am until 3pm.